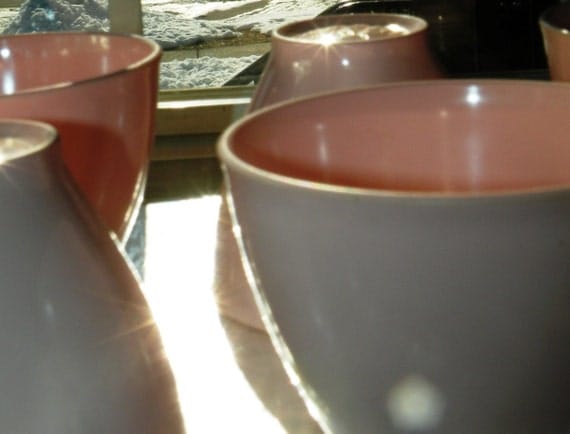 Russel wright plastic tumblers. Courtesy RetroChalet on Etsy.
You may have read my previous post where I told you designer
Michelle Yeeles was determined to reintroduce the Russel Wright Residential
and it's out. One of the stores carrying it is
Black Ink in Cambridge,
Soon you will see Russel Wright melamine reintroduced into your part of the world, but if not, just sign into facebook and
look here on the official Bob's Your Uncle Facebook Post.
I think back to my retail days and wish I was the one playing with that floor display.
Photo courtesy of Michelle Yeeles.
What is Old is New Again
So what happens to the values of the old melmac once the new is introduced? This is not an uncommon question and if truth be told, I think more curiosity will be involved in the designer himself. People buying a new set may wish to reference the old and read the history on Russel Wright Residential and perhaps a new interest in collecting it altogether may occur. I don't think prices will drop initially on the originals. In fact I think the market may be flooded with people scurrying to pull it out of their grandmother's attic to covet the old for a time, until they decide if the new craze and demand is worth selling it.
We've seen this same trend happen again and again. Designers will continue to design or reintroduce their new goodies, yet their original styles are held in timeless tradition and soar in pricing. I wouldn't be so sure we won't see a huge Russel Wright flood into the secondary market.
Speaking of Appraisals
Have you ever wanted to find out more about an antique you've found at a tag sale?
Have you been handed down a family heirloom and haven't a clue on its value?
You may have a valuable treasure and not even know it!
An accredited
antique appraiser
will help you accurately establish their worth, and provide documentation essential to helping you protect your cherished possessions.
Alexander Appraisal & Estate Services is a professional appraisal service specializing in valuing a wide range of antiques. They offer accurate, unbiased, and qualified appraisals. Whether you have a single piece, an entire collection, or the entire contents of an estate –the antique appraisal specialists at
Alexander Appraisal Services
are available to satisfy all your antique appraisal needs with professionalism, integrity, and confidentiality.