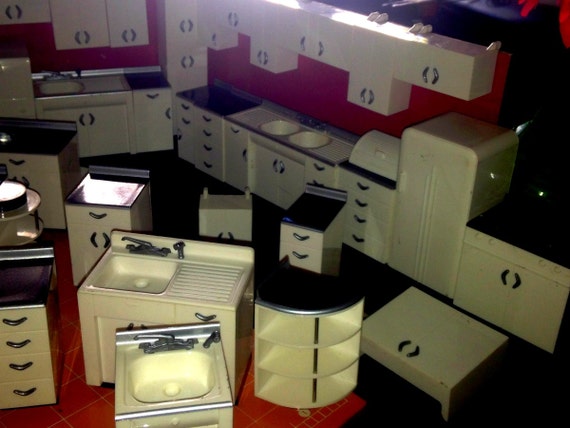 This is a view of the kitchen I built. Pic; RetroCha

le

t Etsy
Sometimes plastic is so fantastic, look at these wonderful Youngstown Kitchen miniature samples. Youngstown Kitchens was a brand of steel cabinetry offered by the Mullins Manufacturing Corporation of Warren, Ohio. It was durable enough for homes but also used commercially in workshops and schools. As for the plastics, well, they were salesman samples. I scarfed the set up awhile ago in my travels, and
recently put it for sale on Etsy.
. The samples would be marked with model numbers and/or Youngstown, and/or Mullins the back.
I have a piece of Youngstown in my 1927 home from the 1940's kitchen remo

del!

Mine would have been special designed, swap the lower cabinet out for two drawers

. I painted mine green.
Many people think they are dollhouse furniture, and I suppose they can be, as they are actually just a tiny fraction of the original size. They were given to salesman of the Youngstown company to go and prey on bored housewives to upgrade their kitchen. The little suitcases came in varying sizes and had masonite slats to separate the small miniatures.
The

re were masonite

slats separated the furniture in the Salesman cases. These were called Geneva Visualizers. I assume there were different sizes

on the kits.

Courtesy: RetroChalet


The set I had was in a large case, and had slats, though there was so much furniture I often wonder how the salesman could fit it all. Quickly I found out you would have to hide pieces inside of others to get them to fit. There were 69 pieces of sinks, stoves, hanging cabinets, free standing cabinets, corner cabinets, and even tiny bread boxes.
Needless to say I played with mine all the time. Courtesy:

R

etroChalet




I have to admit I'm 40 and guilty of playing with my design kit quite often. It was so fun to build and rebuild a tiny dream kitchen. I envisioned it in 1940 or 1950.
Here is one of my favorite designs with stove to the far left. Have you ever seen a Youngstown Stove? I had not until I saw it in the sample! Courtesy: RetroChalet





As for my sample kit, I discovered there were stoves. I had never known that Youngstown had stoves much less produced stoves. It is strange that the two stoves on the right looked like they were only a flat top stove with a cabinet underneath.
Strange no?
I quickly found that over the years only a few more of these complete kits had surfaced. The other set I saw had about 40 some pieces. That was in a longer more briefcase looking kit. I suppose there were different levels of samples you could order. I often wonder if the salesman would choose his own briefcase and cut the slats to fit his own style?
Play, play play and design with this youngstown kitchen furniture!


The slats were unfinished Masonite and I suppose you could play in your briefcase and organize your furniture your own way. I only assume the salesman below sold big time because he had so many variations. I know I would have sold tons of kitchens having so many cool models to built with! I did go crazy building my dream kitchen!
Youngstown had some great cabinets. There's my sink!




I wonder how many more sets actually survived. I will sure miss mine. Soon the actual furniture will be gone as well, only a forethought of yesterday. Only the bleak reminders of the old vintage ads we find here, there and in old magazines will be a reminder of these wonderful creations.
I used to build kitchens I found in old ads. How fun!
My Youngstown Story
As for the furniture, the stuff was durable and built to last, out of steel. Fifteen years ago when I first moved into my home, I was on a limited budget and worked a full time job plus had an antique booth on the side. Every third Thursday in my neighborhood we had bulk trash night. This was where each home owner could sit up to three items out and the city would take it the next day for the dump. I did a lot of curbside upycling those days. I have to admit, in the days before "recycling" and "freecycling" I was already snagging my trash to treasure bargains!
I saw craploads of vintage Youngstown's kitchen sinks , add on cabinets, etc. Most often they came with these great black tops. The tops would have some stains but held up incredibly well. I am not sure what material this was, I thought perhaps formica. Once in awhile I'd see a gem with a special top with atomic designs. I often wondered if this was something the homeowner customized. Most of the cabinets I found, were in great shape.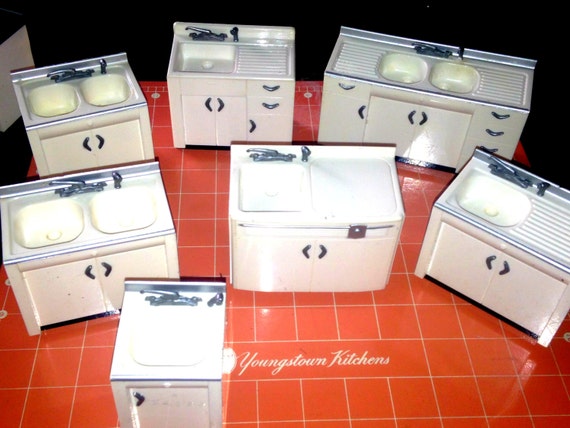 Lovely old Youngstown Kitchen Sinks and Porcelain tops! Pic: retrochalet
Most often the only issues would be on the sinks. There would be rusting inside the cabinet under the sink, due to a home owner neglecting the steady drip of water, which would eventually discolor, rust and weaken the steel underneath. Sinks were porcelain so there were possible chips in the porcelain but the stains in the porcelain were easy to clean with comet!
The major issues with these sinks was replacing the actual faucets. This is because the standard with between the faucets and the spicket are not the same standards as today. I just went though this with my Youngstown porcelain sink. My husband was glad when the faucet went up, hoping I'd opt for more modern in my kitchen, because every unit I purchased the handles would not fit in the holes. The fact here is most homeowners would not opt to waste time drilling into porcelain and steel, and just rip out their sink and get a new one. Instead, I found a new spigot that I could finnagle and rig from underneath, to fit eliminating my hot and cold faucets altogether. Since I could not find any faucets to line up, I had to opt out of them. What I went through to keep that sink!
Welcome to my Youngstown Kitchen Showroom! Note the tiny bread box! too cute!
Originally the free standing cabinets were the most common to find in the bulk trash. Note this is because the homeowner would build a kitchen and have three to four cabinets in each kitchen. They were also marketed to schools and I know a few classrooms back in the day used them for Home Economics or their Science Labs! Note from the photo below how many base cabinets there are in one kitchen alone. Where did all the hanging cabinets go? In people's garages!
The lower cabinets are the ones I'd see all the times in the trash. I think the uppers ended up in garages!
Needless to say back in the day the rounded corner cabinets were scarfed up and coveted from curbside, they had lovely metal trim on them and I can assume were on the more expensive end! (They had a Deluxe line...) Sometimes I still see them in antique malls holding vintage items for sale. I would snag the freestanding cabinets, and resell them in my own antique shop back then. Soon I noticed, in bulk trash, there were no cabinets to be had. What happened to them?
Scrap Metal.
Towards the end of my bulk trashing days the circuit was loaded with scrappers in old pickups and I saw everything they had in the back of their truck was metal. Old metal loveseats, old metal lawn furniture,old tools, hardware, metal rods, metal scrap iron, and these Youngstown cabinets on top. I often thought that was silly because the cabinets were on the thin side, but it made them easy targets to go on top their pile of heavy metal and being all metal with the exception of the top, I suppose a truckload would add up quick at the scrapyard.
Later bulk trash was discontinued and I often wonder how many of those cabinets still survive today? Do you know anyone with some Youngstown? Perhaps over time the V-shaped handles have been replaced, but the black rim on the bottom ay be a dead identification give away!
Want to see more on Youngstown, you can view
old catalogues for free right here!
Read our
Melmac Magazine
for great finds and fantastic plastics!