Brookpark Melmac
I don't know why this is so rare and hard to find, but it is. This is Brookpark's Fantasy line designed by Joan Luntz. Mr. Melmac aka
Robin Ptacek, (now deceased)
who was writing a book on Melmac had done a lot of research and made contact with Joan Luntz several times. Many melmac lines had "designers" on hand to come up with new styles, colors, and patterns. Some patterns were simple transfers ordered from books, others were actually designed by the designer itself. Enter Fantasy:
This set , original listing was being sold by grtest8 on Ebay.
This set has brown accompaniments, but you have to take what you can get. Currently this seller is selling it on ebay, starting bid for the lot only $99 for 65 pieces, even with shipping, that's not bad for a monstrosity this size.
Good Design: Note the retro stylized leaf, so modern in design. The gravy boat is hard to find, and stylized wonderfully. The seller indicates that a black inkstamp was used on the base of the pieces. So imagine after use all the ink washes off over time, how would one know exactly what they have? I guess I'm just not a big fan of ink stamping.
More about Brookpark: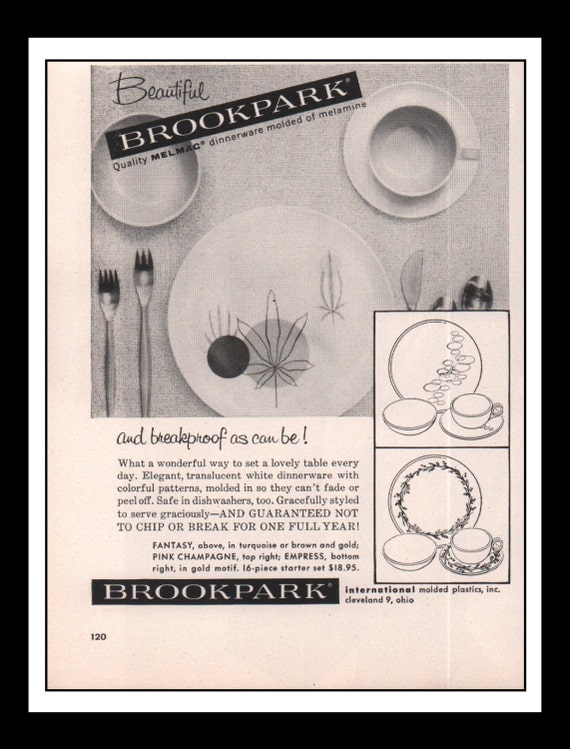 Joan Luntz married the owner of Brookpark, and she was key designer. I am unsure if she made the standard line Gaiety or not, but I love the speckles: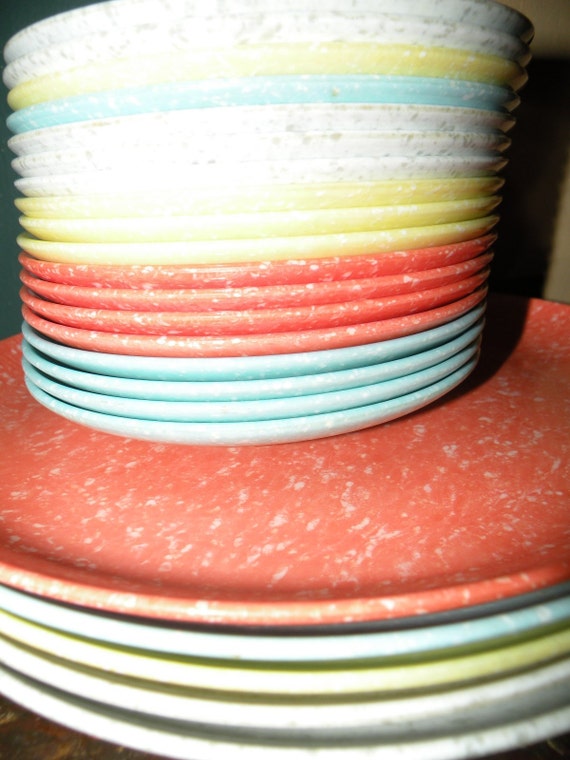 I did manage to find a few Brookpark pieces that had black ink on them. As I was washing them gently, the ink did wash off. I suppose examples with the ink will be hard to find.
Read all my posts on
Brookpark here.
Make sure to share my site, all of this plastic information is kept free by my retrochalet shop and only done so thanks to people like you sharing it! Quality checked 9.30.16