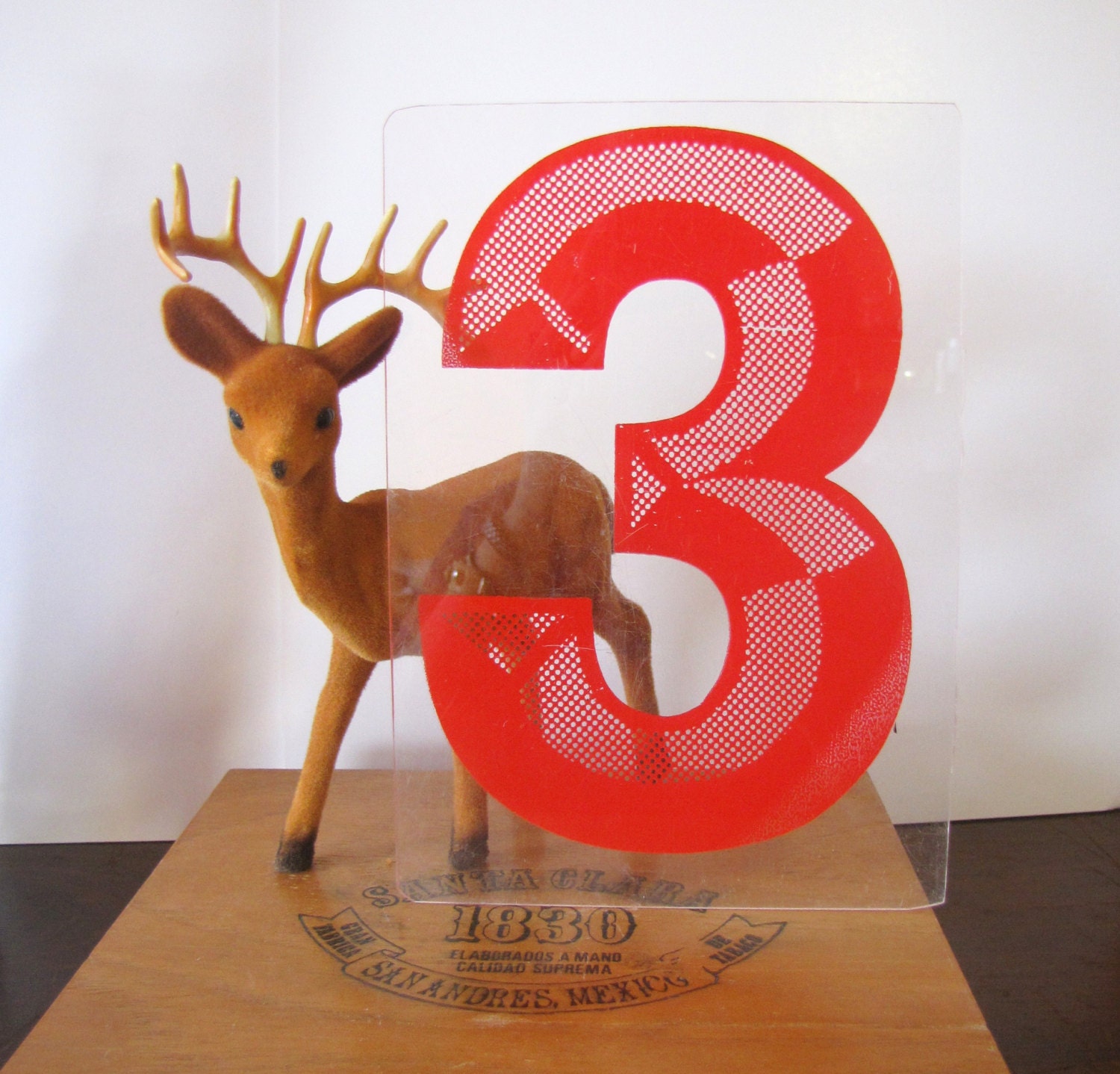 Hey, I'm three!
Thank you to everyone for three lovely years here at
Melmac Central.
I really didn't know that so many people would think melmac and melamine would be so very cool and fun when I started writing. But almost a quarter of a million views later (now approaching 250,000 visitors) three years in your lovely comments and letters and calls about melmac keep me writing.
My mom was 21 when she had me. We spent time baking in the kitchen in our melmac bowls.
This just goes to prove you should start a blog and write about something you love. Writing can really be a stress relief. Some of you may know I started the blog when my mom was diagnosed with colorectal cancer three years ago, which kept my mind busy to focus on something -- even after I lost her. I would revisit the blog a few times a month, do some research and post some pictures of things I loved. I would remember the happy times we were cooking in the kitchen, in her big Texasware melmac bowls. I wrote, and I wrote, and I wrote....and here I am.
So today I just wanted to say thanks for reading. it means a lot to me. I've answered some of your questions below. I'm working on some great new things for this site including some great interviews and working on a sister site called the
Melmac Encyclopedia
where you can find reference material in one place, and even want to have a Melmac Giveaway soon! So, tell your friends and get me over the quarter million mark, so I can keep writing!
In the meantime, enjoy this rainbow of Melmac love, and read some of my most popular articles.
RED MELAMINE LOVE: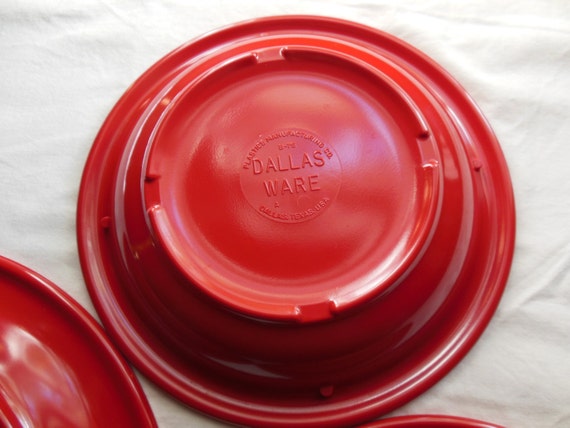 Pic: Etsy, Evergreen Lane See Details Below
These red hot Dallasware place settings were made by the Plastics Manufacturing aka the makers of Texasware. The seller ,
Evergreen Lane
has three piece sets on Etsy for $18.50. Red seems to be one of the harder colors in melmac to find, and it's super cool.
You can read all about
Texas Ware Melamine
on my site, or take the
Texas Ware Factory tour here.
Q: How long do your posts take? Janet - South Carolina
A: Some posts take over an hour if I'm researching, some take days. This one took almost two hours because I'm doing a lot of links and want to make sure they are right!
ORANGE MELAMINE LOVE: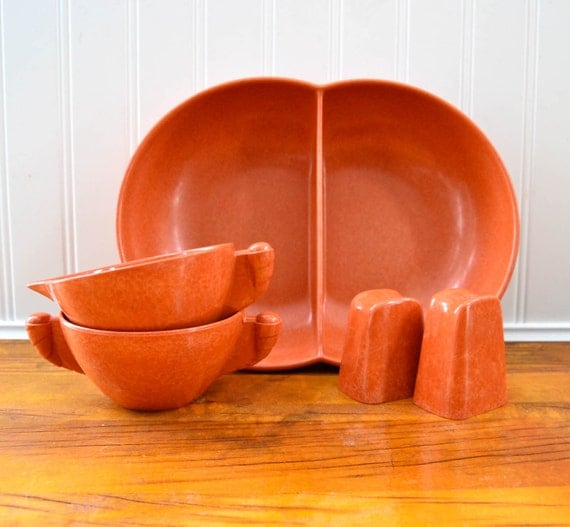 Pic: Etsy, Peach Parlor see details below.
Peach Parlor Vintage on Etsy
has this great Branchell Color-Flyte orangy melamine set for $28! You get the sugar, creamer, salt and pepepr and bowl. The sugar doesn't have a lid but the value is in the sahkers and party bowl alone! What a fun theme for a party.
You can read all my posts on
Color-Flyte
and
Branchell here.
Q: Do the people pay you to be featured on your blog for instance the selections and if not how do you select them? Charlotte - New York
A: No, I find all the items I like myself and add them in. If someone has sponsored my post it's usually a compmany who may compensate me to add in their link, or which I must telll people in the bottom of my post. I select my content based on pictures and rarity of the item and mostly try to support Etsy sellers. This is the way to keep the crap off my blog!
YELLOW MELAMINE LOVE: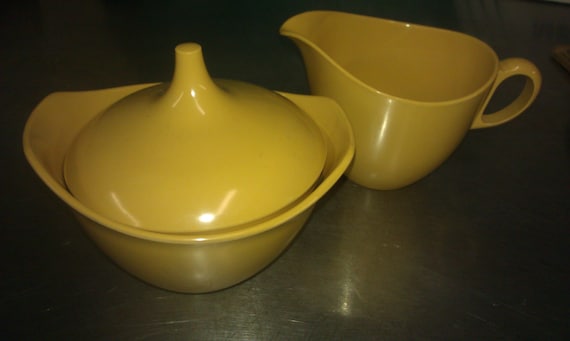 Pic: Etsy RetroChalet see below
I usually go for bright yellows but today it's mellow sixties funky yellow by Oneida Deluxe. The sugar and creamer are $12.95 at
RetroChalet on Etsy
and of coruse I love it because of the I Dream of Jeannie style sugar bowl. It's so retro.
Read all my posts on
Oneida here
of which primarily I wrote about
Kids Oneida dishes
, as they were very common, their history and value.
Q: If you didn't collect Russel Wright Melamine what line would you collect? April - California
A: Boonton! I just like the fact it was well made, and Jersey is close to Maryland so, you have to stick with the hometown theme...
GREEN MELAMINE LOVE: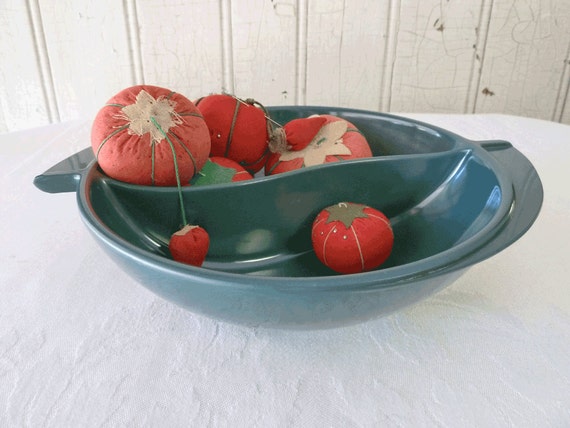 Pic: Etsy KitschyVintage See below
I went with dark green pick since
KitschyVintage on Etsy
has found the perfect use for this Boontonware melmac bowl. It's a hard to find divided bowl in dark green. Originally these had lids but often were misplaced and hard to find, and for $18 is well worth it! This particular bowl is from the Boonton Belle line (designer
Belle Kogan
) .
Read all about
Boonton here.
See
Part 2 of My Boontonware Factory Tour.
I'm working on moving Part One over soon!
Q: If you didn't collect Russel Wright Melamine what line would you collect? April - California
A: Boonton! I just like the fact it was well made, and Jersey is close to Maryland so, you have to stick with the hometown theme...
BLUE MELAMINE LOVE: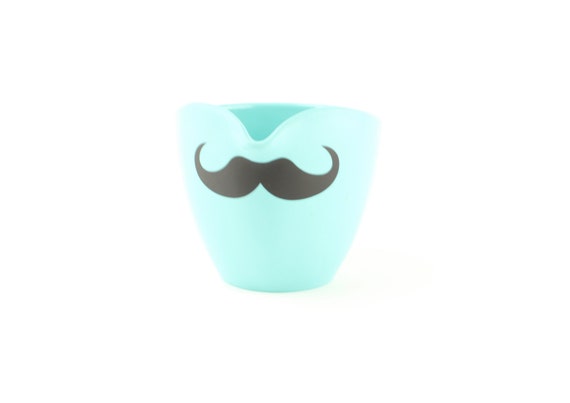 Pic: etsy, Peace Traveler see below
For this I had to pick the creation of
Peace Traveler.
They took an old Prolon Creamer and put a Mustache on it! I know, how cool is that, giving it a cute and hip new look. Only $6, what a steal. Their shop is super cool, they put mustaches on lots of things. As for the creamer, this is part of the Prolon Line.
You can read my posts on
Prolon here
, or read my post about
Prolon Lunch Trays.
Q: How do I clean my Melmac? Sue Ellen - Idaho
A: I wrote a whole article on
Cleaning Melmac here on Squidoo.
PURPLE MELAMINE LOVE: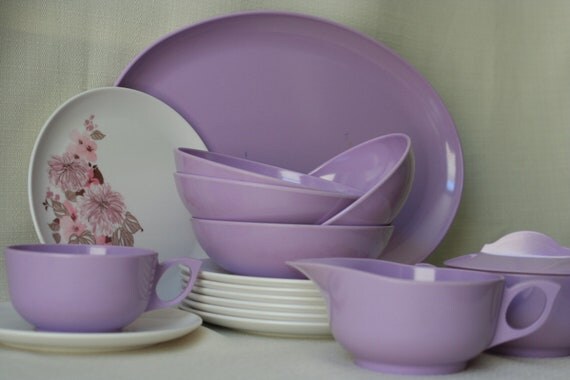 Pic: Etsy, Miss Ruthies see below
Normally the first thing that comes to mind is Royalon melmac as this was very popular Purple colored melmac sold everywhere, but in this case I went with the underdog. Purple in general is hard to find in melamine, and this set at
Miss Ruthies on Etsy
is the cat's meow. It is typical California ware, probably made at
Pacific Plastics,
as you can tell by the cat eye handles. I love this, and finding a set in all purple in a complete set is SUPER RARE. Miss Ruthies has this set priced at $75 and for a collector that's a great set to acquire.
Read about the t
our of California Melamine here
, or pick a California molder to read more about:
Laguna
,
Capac
,
Miramar
.
Q: What is my melmac worth ? Jane - Wisconsin
A: I can't tell you that. Melmac is subjective based on color, condition and manufacture. Truth is I've seen the market go nuts over the past 20 years. There are so many makers, names, brands, and it all comes down to supply and demand. If you search Etsy and Ebay and see a billion cups and saucers just like yours, chances are you aren't going to get top dollar. However you will get a median starting point based on asking prices. Sometimes I think the value is in the condition and finding the right person who needs those pieces. Sounds like great subject material for a new post...
Thanks for three great years.